News
Appels a projets 2015
---
Posted the 2015/01/12, 09:24
Vous trouverez ci-joint les appels à projets pour la demande de subventions, de projets transversaux et pour la proposition d'un sujet pour une allocation doctorale régionale ou pour une allocation post-doctorale régionale, dans le cadre du CPER 2015.
La date limite de retour des demandes est fixée au 5 février 2015 à 14 h, délai de rigueur par mail à jean-luc.do-rego@univ-rouen.fr.
Projets transversaux
Subventions
Allocations doctorales
Allocations post-doctorales
Résultats des appels d'offre IRIB
---
Posted the 2014/10/08, 13:44
L'IRIB a lancé en juillet dernier deux nouveaux appels d'offres sur ses fonds propres, le premier visant à encourager l'accueil de chercheurs de haut niveau actuellement en poste à l'étranger, et le second ayant pour but de soutenir les démarches de valorisation au sein de l'IRIB.

L'objectif du premier appel était de faciliter le contact entre un chercheur et un laboratoire de l'Institut dans la perspective d'un recrutement potentiel. Pour cet appel, l'IRIB a retenu le projet déposé par les Drs David Vaudry et Youssef Anouar (INSERM U982) afin de prendre en charge des frais de déplacement et de séjour à Rouen du Dr Hitoshi Komuro, Associate Professor à Cleveland et spécialiste de la migration des cellules neuronales au cours du développement cérébral.
L'objectif du second appel était d'encourager des projets de recherche susceptibles de déboucher à court terme sur une valorisation (dépôt de brevet ou de logiciel, prise de licence d'un brevet récent, création d'entreprise en Région Haute-Normandie, etc.). Le premier prix (10 K€) a été décerné au projet d'Emilie David, postdoctorante au Laboratoire COBRA UMR 6014, afin de faciliter la création de la start-up ChemForAse. Ce projet d'entreprise, hébergé par l'incubateur SEINARI, a pour objectif la synthèse de résines de chromatographie d'affinité pour la purification d'enzymes. Le deuxième prix (9,5K€) a été
décerné au projet porté par Kim Perrichon, doctorante à l'INSERM U905, qui vise à créer une start-up développant des tests génétiques chez le cheval (projet en pré-incubation par SEINARI). L'aide de l'IRIB sera attribuée au premier semestre 2015, à l'issue de la thèse de la candidate, pour consolider l'analyse de la propriété intellectuelle.
Fête de la Science 2014
---
Posted the 2014/10/08, 12:43
L'IRIB sera présent cette année à la fête de la science du jeudi 9 au samedi 11 octobre 2014, sur le technopôle du Madrillet, à Saint-Étienne-du-Rouvray
La recherche des medicaments d'hier a aujourd'hui
---
Posted the 2014/06/27, 16:58
Conférence grand public
le mercredi 2 juillet 2014 à 20h30
A l'Hôtel de Région
Intervenant : Professeur Jean Costentin, Dr. Med., Pharm., Dr ès Sci., professeur émérite de Pharmacologie, directeur de l'unité de neuropsychopharmacologie CNRS (1984-2008), membre de l'académie nationale de Médecine, membre de l'académie nationale de Pharmacie.
Dans le cadre des 50èmes Rencontres Internationales de Chimie Thérapeutiques organisées à Rouen du 2 au 4 juillet (RICT2014), une conférence grand public vous est proposée sur La recherche des médicaments d'hier à aujourdhui.
Inscription à la conférence grand public : http://bit.ly/1px1b5x
Demi-Journée démarche qualité en recherche 13 mai
---
Posted the 2014/03/26, 12:02
Dans le cadre des actions menées au sein de l'IRIB afin de promouvoir le développement du management de la qualité, le Service commun d'analyse du stress oxydatif de l'IRIB (plateforme BOSS, Unité Inserm U1096, certifiée ISO 9001) organise une demi-journée consacrée à la Qualité en recherche, dont le thème est : « Le management de la Qualité dans tous ses états ». A cette occasion nous aurons le plaisir d'accueillir en particulier Mme Isabelle Henry, Directrice du Département Evaluation et Suivi des Programmes de l'INSERM
Cette matinée est organisée le 13 mai à 10 heure dans la salle des thèses, 6ème étage du bâtiment Stewart, U.F.R Médecine & Pharmacie de l'Université de Rouen, et sera suivie d'un cocktail.
Les intervenants sont :
Laurent Coquet (Responsable Management de la Qualité plate-forme de protéomique PISSARO)
Elisabeth Moreau (Responsable Management Qualité Inserm SC10-US019 « Essais thérapeutiques et maladies infectieuses »)
Asma Ouchoual (Responsable Management Qualité au sein du Centre d'investigation Clinique du CHU de Rouen)
Isabelle Henry (Directrice du département Evaluation et suivi des programmes INSERM)
Marie-Sandra Fournier (Responsable Management Qualité au sein du département Evaluation et suivi des programmes INSERM).
Pour des questions d'organisation, une inscription (gratuite) à l'avance est souhaitable via le formulaire en ligne
3ème Journée de l'IRIB , 20/06/2014, les informations sont en ligne
---
Posted the 2014/03/22, 12:02
Les informations concernant la 3ème journée de l'IRIB sont en ligne ici
Conférence exceptionnelle de l'IRIB - Pr Hervé Lefebvre - CHU Amphi Lecat - 12 mars 17h
---
Posted the 2014/03/10, 15:11
Une conférence exceptionnelle de l'IRIB intitulée « Une hypophyse dans les surrénales ? » sera
présentée par le Pr Hervé Lefebvre (Inserm U982 et Service d'Endocrinologie, Diabète et Maladies métaboliques, CHU-Hôpitaux de Rouen) à l'occasion de la publication des travaux de son équipe
dans un article paru dans le New England Journal of Medicine. Cette conférence aura lieu le mercredi 12 mars 2014, à 17 h, dans l'amphithéâtre Lecat du CHU Charles Nicolle à Rouen.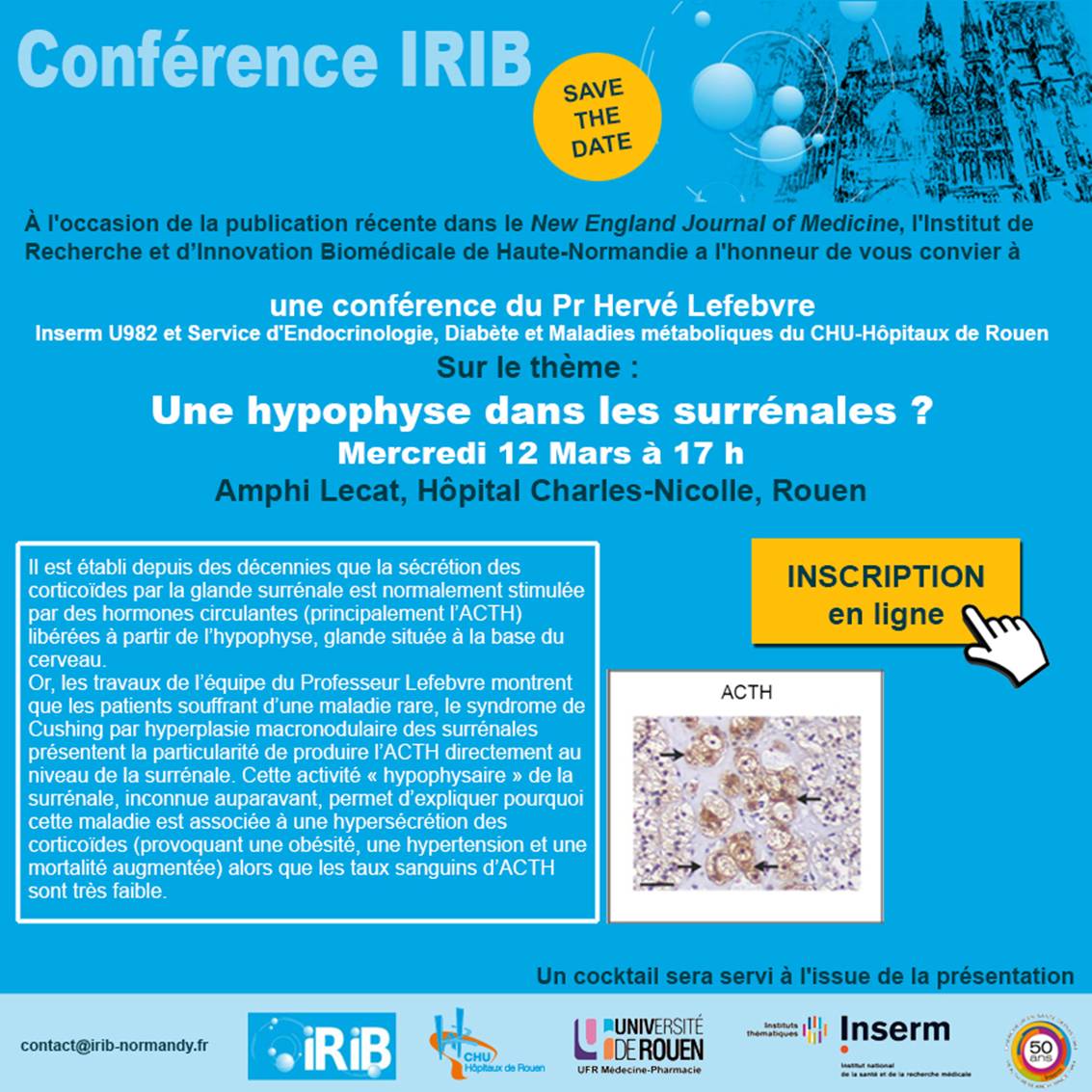 Lettres de l'IRIB 2014
---
Posted the 2014/03/10, 15:07
Les 3 premières lettres de l'IRIB 2014 sont en ligne
Publication U982 in the New England J Medicine
---
Posted the 2014/01/09, 11:00
Louiset E., Duparc C., Young J., Renouf S., Tetsi Nomigni M., Boutelet I., Libé R., Bram Z., Groussin L., Caron P., Tabarin A., Grunenberger F., Christin-Maitre S., Bertagna X., Kuhn J.M., Anouar Y., Bertherat J. and Lefebvre H. Intraadrenal Corticotropin in Bilateral Macronodular Adrenal Hyperplasia. In this article, published in the N. Engl. J. Med. (369:2115-212, 2013, PMID 24283225), the group "Pathophysiology of adrenocortical and prostatic tumors" (team 4, INSERM U982, Head: Dr Youssef Anouar) coordinated by Pr Hervé Lefebvre showed that the adrenal glands removed from patients with bilateral macronodular adrenal hyperplasia and Cushing's syndrome abnormally produce significant amounts of corticotropin (ACTH) which stimulate cortisol secretion through a paracrine mechanism. This work performed in collaboration with the national French network COMETE and several French university hospitals, also indicates that illicit synthesis of ACTH by adrenocortical cells may result from a molecular event affecting the development of the common precursor tissue of adrenal glands and gonads during embryogenesis. Finally, identification of this new pathophysiological mechanism of Cushing's syndrome suggests that pharmacological agents able to inhibit the action of ACTH, such as antagonists at the ACTH receptor, may represent original treatments of hypercortisolism.
Article published by U1079 on Functional analysis of a large set of BRCA2 exon 7 variants: video interview of A Martins
---
Posted the 2014/01/02, 13:49
Here is the video interview of Alexandra Martins from Inserm U1079, made by Rouen University Hospital, regarding the article : Di Giacomo D, Gaildrat P, Abuli A, Abdat J, Frébourg T, Tosi M and Martins A. Functional analysis of a large set of BRCA2 exon 7 variants highlights the predictive value of hexamer scores in detecting alterations of exonic splicing regulatory elements. HUM MUTAT 2013, 34: 1547-57. doi. 23983145
1
2
3
4
5
6
7
8