News
Publication U1073 in Nature Communications
---
Posted the 2013/12/02, 12:24
Takagi K., Legrand R., Asakawa A., Amitani H., François M., Tennoune N., Coëffier M., Claeyssens S., do Rego J.-C., Déchelotte P., Inui A. and Fetissov SO.
Anti-ghrelin immunoglobulins modulate ghrelin stability and its orexigenic effect in obese mice and humans.
In this work, performed in the Inserm UMR 1073 « Nutrition, Gut & Brain Laboratory » (Dir. Pr. Pierre Déchelotte) and published in Nature Communications (4:2685, 2013) the authors discovered a new molecular mechanism of increased food intake (hyperphagia) in obesity. This mechanism involves circulating immunoglobulins IgG which appear to protect ghrelin, the main hunger hormone, from degradation by plasma enzymes. Furthermore, the authors found that IgG from obese patients bind more ghrelin than non-obese subjects and patients with anorexia nervosa which is explained by showing increased affinity of IgG for ghrelin in obesity. Authors further show that IgG in obese patients and obese ob/ob mice enhance ghrelin's effect to increase food intake and body weight in rodents. Thus, this work contributes to better understanding of communications in the gut-brain axis and may help to develop new treatment strategies for eating disorders and obesity.
Lettres de l'IRIB décembre 2013
---
Posted the 2013/12/02, 12:22
La lettre de l'IRIB de décembre 2013 est en ligne
Calendrier CPER 2014
---
Posted the 2013/12/02, 11:39
Calendrier CPER 2014
Réseau IRIB
18 octobre 2013 : Comité de direction de l'IRIB
* Approbation et lancement de l'appel à projets des subventions
* Approbation et lancement de l'appel à projets pour les propositions de sujets de thèse pour une allocation doctorale régionale
* Approbation et lancement de l'appel à projets pour les propositions de sujets pour une allocation post doctorale régionale
01 novembre 2013 au 17 janvier 2014 : Réunion des différents groupes de travail de chaque axe (Discussions et consensus à dégager concernant les projets)
1 - Axe Imagerie et Analyse Cellulaires
Date réunion : 13 décembre 2013
Heure : 9 h
Lieu : Salle 308, PRIMACEN
2 - Axe Protéomique - RMN
Date réunion : 11 décembre 2013
Heure: 9 h 30
Lieu: Salle de réunion UMR 6270 CNRS
3 - Axe Génomique et Investigations Clinico-Biologiques
Date réunion : 16 décembre 2013
Heure : 16 h
Lieu : Salle de réunion de l'Unité 1079 Inserm
4 – Axe Exploration in vivo
Date réunion: 29 novembre 2013
Heure: 10 h
Lieu: Salle de réunion de l'Unité 1096 Inserm
5 – Axe Projet Transversal
Date réunion: 05 décembre 2013
Heure: 14 h 30
Lieu: Salle de réunion de l'Unité 982 Inserm
20 janvier 2014, 17 h : Date limite de retour du procès verbal des groupes de travail de chaque axe
23 janvier 2014, 17 h : Date limite de retour des lettres d'intention des projets à subventionner
24 janvier 2014, 17 h : Date limite de retour des lettres d'intention pour les demandes d'allocations régionales
31 janvier 2014, 15h : Comité de direction de l'IRIB
* Sélection des projets à subventionner
* Choix des rapporteurs pour les allocations doctorales régionales
14 février 2014, 17 h : Date limite de retour des lettres d'intention pour les demandes d'allocations post-doctorales régionales
14 février 2014, 17h : Date limite de retour des rapports d'évaluation des allocations doctorales
21 février 2014, 14h : Comité de direction de l'IRIB
* Délibération et classement des projets de thèse pour les allocations régionales
* Choix des rapporteurs pour les allocations post-doctorales régionales
21 février 2014, 16h : Comité Scientifique réseau IRIB en présence de la Région, de Seinari, des établissements et de l'école doctorale
07 mars 2014, 17h : Date limite de retour des rapports d'évaluation des allocations post- doctorales
10 mars 2014, 17h : Date limite de retour des dossiers complets de demande de subventions
14 mars 2014, 14h : Comité de direction IRIB
* Délibération et classement des projets pour les allocations post-doctorales régionales
14 mars 2014, 16h : Comité de pilotage GRR-CBS en présence de la Région, de Seinari, des établissements et de l'école doctorale
26 mars 2014, 17h : Date limite de retour des dossiers complets de demande d'allocation doctorale retenus
31 mars 2014, 17h : Date limite de retour des dossiers complets de demande d'allocation post-doctorale classés
Appels d'offre 2014 Subventions IRIB, Allocations doctorales & post-doctorales
---
Posted the 2013/11/15, 17:06
Bonjour, vous trouverez ci-joint les documents concernant les appels d'offre 2014 Subventions IRIB, Allocations doctorales & post-doctorales
Allocations Doctorales Régionales
Allocations Post-Doctorales Régionales
(Répartition des axes pour les subventions)
Lettres de l'IRIB d'octobre et novembre 2013
---
Posted the 2013/11/09, 09:11
Les lettres de l'IRIB d'octobre et novembre 2013 sont en ligne
Prochaines réunions scientifiques de l'IRIB
---
Posted the 2013/11/09, 09:09
Prochaines réunions scientifiques de l'IRIB (17h à 18h) :
Jeudi 28 novembre 2013 (Attention 16h30!): EA 4308 (Nathalie Rives) Amphi Velours - Rouen
Jeudi 12 décembre 2013 : QUANTIF (Pierre Véra) Amphi Gaudray – Mont Saint Aignan
Jeudi 30 janvier 2014 : Inserm U1096 (Vincent Richard)
Jeudi 20 février 2014 : EA 4308 (Nathalie Rives / Horace Roman)
Jeudi 13 mars 2014 : EA 4108 LITIS (Stefan Darmoni)
Jeudi 10 avril 2014 : Inserm U1073 (Pierre Déchelotte)
Jeudi 15 mai 2014 : EA 4358 (Patrice Lerouge)
La recherche, moteur d'innovation en Haute-Normandie
---
Posted the 2013/11/09, 09:05
17ème Journée Scientifique du réseau LARC-Neurosciences 25/10/2013
---
Posted the 2013/09/03, 09:26
La 17ème Journée Scientifique du réseau d'enseignement et de recherche en Neurosciences du Nord-Ouest (réseau LARC-Neurosciences) sera organisée le vendredi 25 octobre 2013 à Rouen, dans l'auditorium h2o. La réunion comportera trois conférences plénières présentées par le Pr Denis BURDAKOV (MRC National Institute for Medical Research, Londres, Grande-Bretagne) sur le thème « Peptidergic neurons and brain state control », le Pr Henry MARKRAM (Brain Mind Institute, Lausanne, Suisse) sur le thème « The Human brain project », et le Pr Stuart ALLAN (University of Manchester, Manchester, Grande-Bretagne) sur le thème « Inflammation and stroke: it's not all in the brain ». La journée comprendra aussi des communications orales en Anglais par de jeunes chercheurs travaillant dans les différents laboratoires du réseau, et des communications affichées. Les frais d'inscription seront pris en charge cette année grâce au projet Interreg IVA TC2N, mais pour des raisons logistiques, l'inscription est obligatoire, dans la limite des places disponibles. Pour vous inscrire à la journée, rendez-vous jusqu'au 15 septembre sur le site du réseau LARC-Neurosciences:
http://larc-neurosciences.org/registration
Programme des séminaires IRIB 2ème semestre 2013
---
Posted the 2013/06/25, 15:26
Programme des séminaires IRIB – 2ème semestre 2013
De 17h00 à 18h00
Jeudi 12 septembre 2013 : Inserm U1079 (Thierry Frébourg)
« P53 en 2013 »
Jeudi 17 octobre 2013 : PRIMACEN (David Vaudry)
« Approches complémentaires en imagerie photonique et électronique pour couvrir un large spectre de résolutions spatiales et temporelles »
Jeudi 28 novembre 2013 : EA 4308 (Nathalie Rives)
« Testicule prépubère et qualité du spermatozoïde »
Jeudi 12 décembre 2013 : QUANTIF (Pierre Véra)
« Imagerie PET de l'hypoxie »
2èmes Journées de l'IRIB: résultats des prix
---
Posted the 2013/06/21, 20:43
Prix de communications orales
Pauline MABY, Inserm 1079
Vadim LE JONCOUR, Inserm U982
Prix de poster
Marie BESNIER, Inserm U1096
Abdoul-Salam KORONEY, EA 4358 GLYCOMEV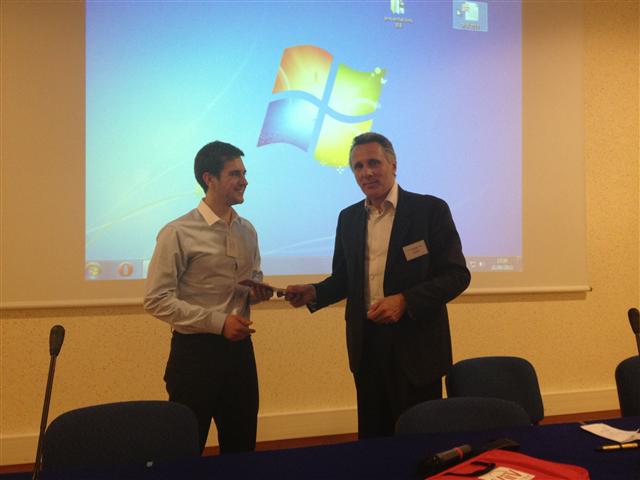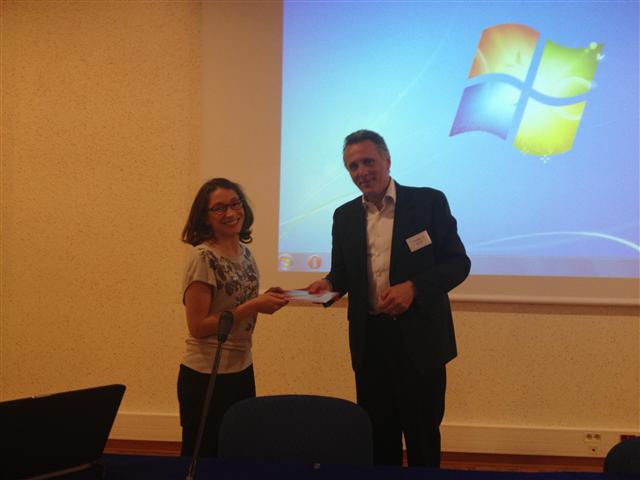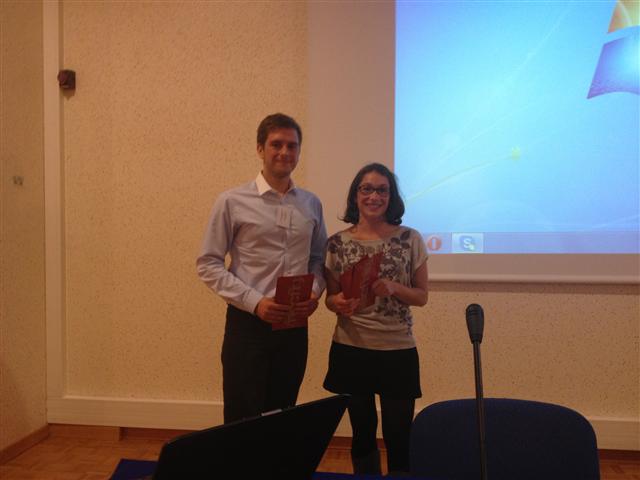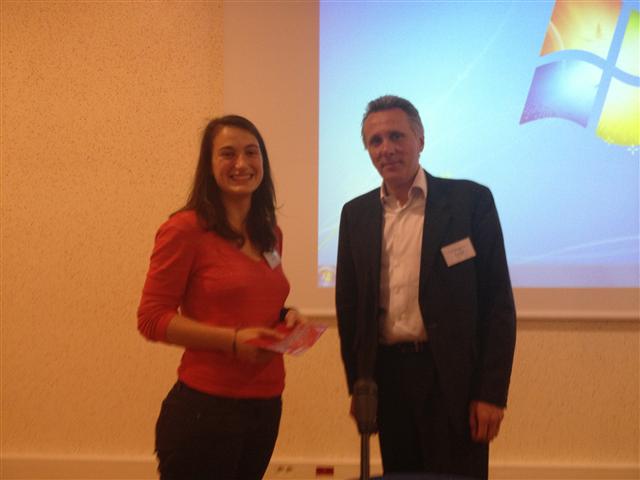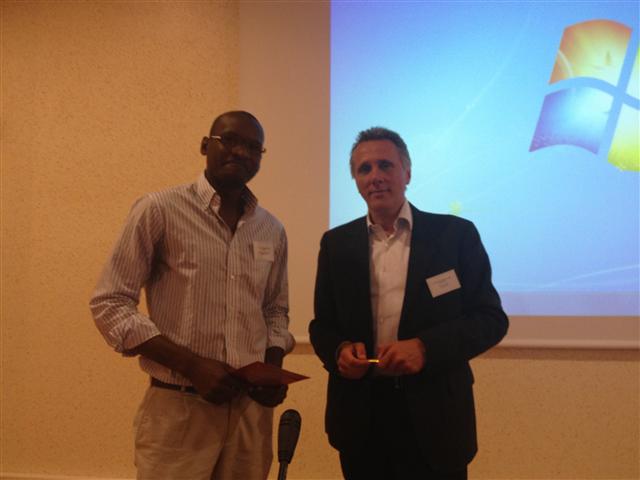 1
2
3
4
5
6
7
8