News
Fête de la Science 2014
---
Posted the 2014/10/08, 12:43
L'IRIB sera présent cette année à la fête de la science du jeudi 9 au samedi 11 octobre 2014, sur le technopôle du Madrillet, à Saint-Étienne-du-Rouvray
La recherche des medicaments d'hier a aujourd'hui
---
Posted the 2014/06/27, 16:58
Conférence grand public
le mercredi 2 juillet 2014 à 20h30
A l'Hôtel de Région
Intervenant : Professeur Jean Costentin, Dr. Med., Pharm., Dr ès Sci., professeur émérite de Pharmacologie, directeur de l'unité de neuropsychopharmacologie CNRS (1984-2008), membre de l'académie nationale de Médecine, membre de l'académie nationale de Pharmacie.
Dans le cadre des 50èmes Rencontres Internationales de Chimie Thérapeutiques organisées à Rouen du 2 au 4 juillet (RICT2014), une conférence grand public vous est proposée sur La recherche des médicaments d'hier à aujourdhui.
Inscription à la conférence grand public : http://bit.ly/1px1b5x
Demi-Journée démarche qualité en recherche 13 mai
---
Posted the 2014/03/26, 12:02
Dans le cadre des actions menées au sein de l'IRIB afin de promouvoir le développement du management de la qualité, le Service commun d'analyse du stress oxydatif de l'IRIB (plateforme BOSS, Unité Inserm U1096, certifiée ISO 9001) organise une demi-journée consacrée à la Qualité en recherche, dont le thème est : « Le management de la Qualité dans tous ses états ». A cette occasion nous aurons le plaisir d'accueillir en particulier Mme Isabelle Henry, Directrice du Département Evaluation et Suivi des Programmes de l'INSERM
Cette matinée est organisée le 13 mai à 10 heure dans la salle des thèses, 6ème étage du bâtiment Stewart, U.F.R Médecine & Pharmacie de l'Université de Rouen, et sera suivie d'un cocktail.
Les intervenants sont :
Laurent Coquet (Responsable Management de la Qualité plate-forme de protéomique PISSARO)
Elisabeth Moreau (Responsable Management Qualité Inserm SC10-US019 « Essais thérapeutiques et maladies infectieuses »)
Asma Ouchoual (Responsable Management Qualité au sein du Centre d'investigation Clinique du CHU de Rouen)
Isabelle Henry (Directrice du département Evaluation et suivi des programmes INSERM)
Marie-Sandra Fournier (Responsable Management Qualité au sein du département Evaluation et suivi des programmes INSERM).
Pour des questions d'organisation, une inscription (gratuite) à l'avance est souhaitable via le formulaire en ligne
3ème Journée de l'IRIB , 20/06/2014, les informations sont en ligne
---
Posted the 2014/03/22, 12:02
Les informations concernant la 3ème journée de l'IRIB sont en ligne ici
Conférence exceptionnelle de l'IRIB - Pr Hervé Lefebvre - CHU Amphi Lecat - 12 mars 17h
---
Posted the 2014/03/10, 15:11
Une conférence exceptionnelle de l'IRIB intitulée « Une hypophyse dans les surrénales ? » sera
présentée par le Pr Hervé Lefebvre (Inserm U982 et Service d'Endocrinologie, Diabète et Maladies métaboliques, CHU-Hôpitaux de Rouen) à l'occasion de la publication des travaux de son équipe
dans un article paru dans le New England Journal of Medicine. Cette conférence aura lieu le mercredi 12 mars 2014, à 17 h, dans l'amphithéâtre Lecat du CHU Charles Nicolle à Rouen.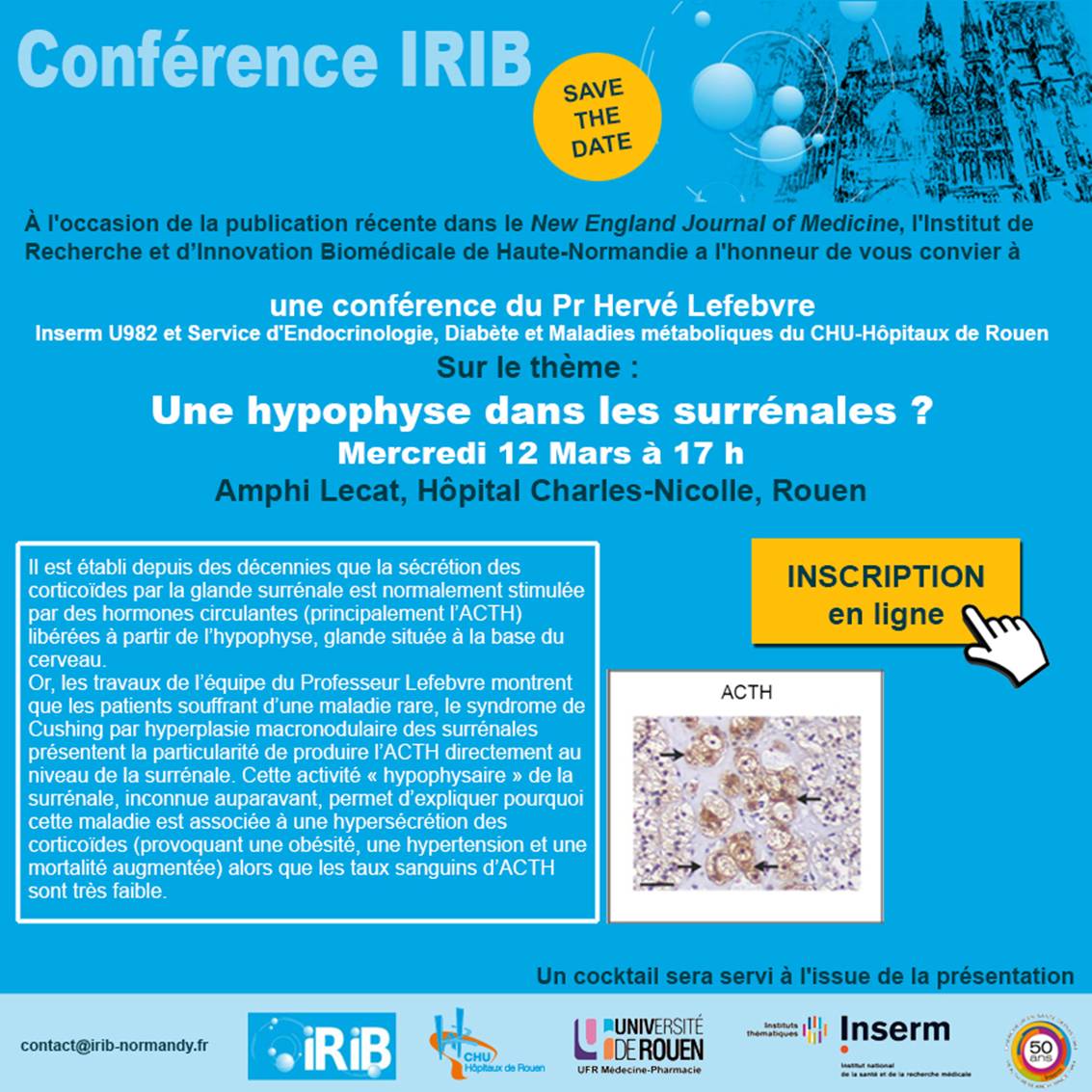 Lettres de l'IRIB 2014
---
Posted the 2014/03/10, 15:07
Les 3 premières lettres de l'IRIB 2014 sont en ligne
Publication U982 in the New England J Medicine
---
Posted the 2014/01/09, 11:00
Louiset E., Duparc C., Young J., Renouf S., Tetsi Nomigni M., Boutelet I., Libé R., Bram Z., Groussin L., Caron P., Tabarin A., Grunenberger F., Christin-Maitre S., Bertagna X., Kuhn J.M., Anouar Y., Bertherat J. and Lefebvre H. Intraadrenal Corticotropin in Bilateral Macronodular Adrenal Hyperplasia. In this article, published in the N. Engl. J. Med. (369:2115-212, 2013, PMID 24283225), the group "Pathophysiology of adrenocortical and prostatic tumors" (team 4, INSERM U982, Head: Dr Youssef Anouar) coordinated by Pr Hervé Lefebvre showed that the adrenal glands removed from patients with bilateral macronodular adrenal hyperplasia and Cushing's syndrome abnormally produce significant amounts of corticotropin (ACTH) which stimulate cortisol secretion through a paracrine mechanism. This work performed in collaboration with the national French network COMETE and several French university hospitals, also indicates that illicit synthesis of ACTH by adrenocortical cells may result from a molecular event affecting the development of the common precursor tissue of adrenal glands and gonads during embryogenesis. Finally, identification of this new pathophysiological mechanism of Cushing's syndrome suggests that pharmacological agents able to inhibit the action of ACTH, such as antagonists at the ACTH receptor, may represent original treatments of hypercortisolism.
Article published by U1079 on Functional analysis of a large set of BRCA2 exon 7 variants: video interview of A Martins
---
Posted the 2014/01/02, 13:49
Here is the video interview of Alexandra Martins from Inserm U1079, made by Rouen University Hospital, regarding the article : Di Giacomo D, Gaildrat P, Abuli A, Abdat J, Frébourg T, Tosi M and Martins A. Functional analysis of a large set of BRCA2 exon 7 variants highlights the predictive value of hexamer scores in detecting alterations of exonic splicing regulatory elements. HUM MUTAT 2013, 34: 1547-57. doi. 23983145
Publication U1073 in Nature Communications
---
Posted the 2013/12/02, 12:24
Takagi K., Legrand R., Asakawa A., Amitani H., François M., Tennoune N., Coëffier M., Claeyssens S., do Rego J.-C., Déchelotte P., Inui A. and Fetissov SO.
Anti-ghrelin immunoglobulins modulate ghrelin stability and its orexigenic effect in obese mice and humans.
In this work, performed in the Inserm UMR 1073 « Nutrition, Gut & Brain Laboratory » (Dir. Pr. Pierre Déchelotte) and published in Nature Communications (4:2685, 2013) the authors discovered a new molecular mechanism of increased food intake (hyperphagia) in obesity. This mechanism involves circulating immunoglobulins IgG which appear to protect ghrelin, the main hunger hormone, from degradation by plasma enzymes. Furthermore, the authors found that IgG from obese patients bind more ghrelin than non-obese subjects and patients with anorexia nervosa which is explained by showing increased affinity of IgG for ghrelin in obesity. Authors further show that IgG in obese patients and obese ob/ob mice enhance ghrelin's effect to increase food intake and body weight in rodents. Thus, this work contributes to better understanding of communications in the gut-brain axis and may help to develop new treatment strategies for eating disorders and obesity.
Lettres de l'IRIB décembre 2013
---
Posted the 2013/12/02, 12:22
La lettre de l'IRIB de décembre 2013 est en ligne
1
2
3
4
5
6
7
8
9
10