News
Symposium IRIB " RECENT ADVANCES IN SINGLE CELL BIOLOGY"
---
Posted the 2018/05/14, 10:00
L'Institut de Recherche et d'Innovation Biomédicale (IRIB) et le Réseau d'Intérêt Normand SingleC structuré dans le cadre de l'appel d'offre régional RIN recherche 2018 ont le plaisir de vous annoncer la tenue le 19 octobre 2018, à la Faculté de Médecine et Pharmacie de Rouen (Salle des thèses - Bâtiment Stewart 6ème étage) du Symposium IRIB «RECENT ADVANCES IN SINGLE CELL BIOLOGY» organise par le Pr Sophie Candon (Inserm U1234) et le Dr Ebba Brakenhielm (Inserm U1096). Cette journée réunira des intervenants extérieurs et des chercheurs de l'IRIB qui aborderont les récents développements des approches Single Cell dans diverses disciplines (immunologie, hématologie, oncologie,…) : Luca Grumolato (Inserm U1239, Rouen), Eliane Piaggio (Inserm U932, Institut Curie, Paris), Rickard Sandberg (Karolinska Institutet, Stockholm), Pierre Milpied (UMR7280, Centre d'Immunologie Marseille-Luminy), Guillaume Mottet (Institut Pasteur, Paris), avec la participation de 10X Genomics. Ce symposium sera l'occasion d'échanger avec des experts nationaux et internationaux sur les stratégies de dernière génération pour l'analyse transcriptomique, génomique et épigénétique de l'hétérogénéité cellulaire. Contact : sophie.candon@inserm.fr
Journée normande de recherche biomédicale - JNRb 2018
---
Posted the 2018/05/14, 09:55
La 3ème Journée normande de recherche biomédicale (JNRb 2018) aura lieu le jeudi 20 septembre 2018 à l'UFR Santé de Rouen. Comme pour les éditions précédentes, la JNRb sera l'occasion de partager les avancées scientifiques des équipes Normandes de recherche biomédicale, et comprendra en particulier des communications orales, des présentations de posters, et deux conférences plénières. Ces dernières devraient porter sur les thèmes « Rétrécissement aortique : des fondamentaux au traitement » par le Pr Bernard Iung (Hôpital Paris-Bichat), et « Prolonger l'activation du récepteur aux estrogènes pour bien vieillir » par le Pr Jean-Francois Arnal (Institut des Maladies Métaboliques et Cardiovasculaires, Toulouse). Plus d'informations prochianement.
Lettre de l'IRIB - Mai 2018
---
Posted the 2018/05/14, 09:52
La Lettre de l'IRIB du mois de mai 2018 (n°52) est en ligne.
Pour consulter les archives, merci de cliquer ici.
Séminaire
---
Posted the 2018/05/14, 09:40
Veuillez trouver ci-après l'annonce d'un séminaire :
Réunion scientifique IRIB
---
Posted the 2018/04/25, 23:20
La prochaine réunion scientifique IRIB aura lieu le 3 mai 2018, à 11 h, sur le site de Mont-Saint-Aignan :
Présentation du CytoFLEX
---
Posted the 2018/04/06, 16:08
Inauguration de l'antenne du service commun de cytométrie et tri cellulaire sur le site de Mont Saint Aignan au CURIB : présentation du CytoFLEX :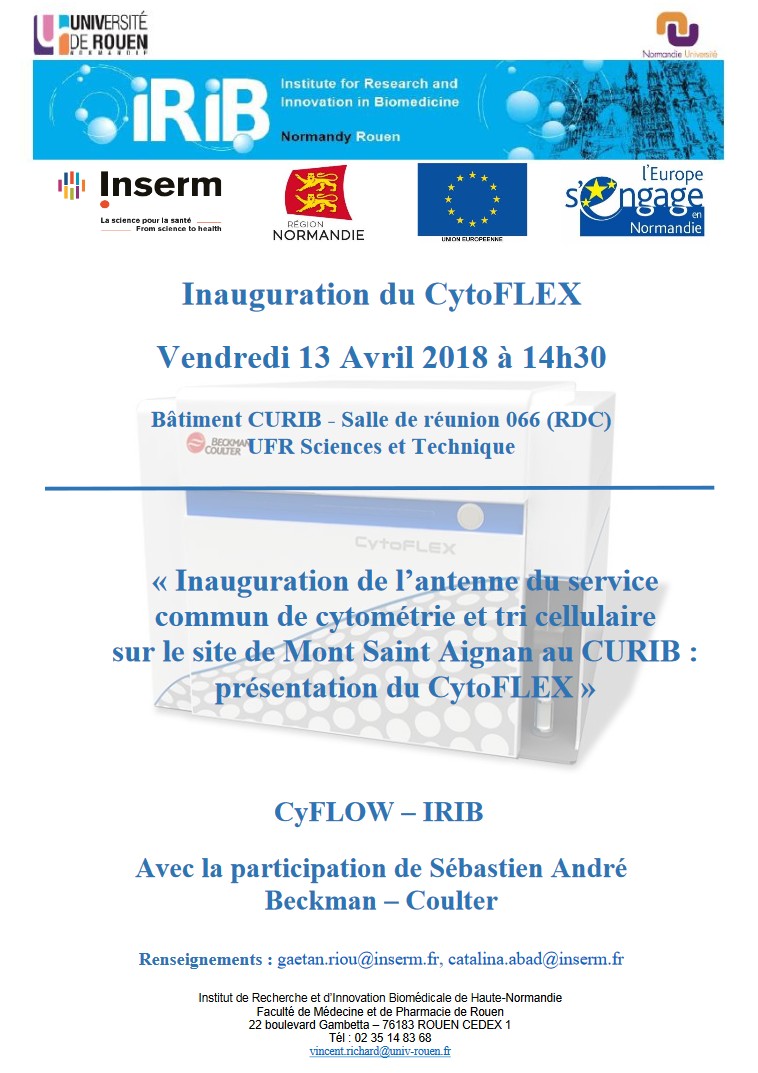 Réunion scientifique IRIB
---
Posted the 2018/03/27, 17:26
La prochaine réunion scientifique IRIB aura lieu le 5 avril 2018, à 17 h, sur le site de Martainville :