Research Laboratories
CIC-CRB 1404
Clinical Research Centre - Biological Resources Center


Head

Pr. Anne-Marie Leroi - Dr. Marie-Pierre Tavolacci - Dr. Eglantine Ferrand Devouge - Dr. Muriel Quillard-Muraine


Contact

Centre d'Investigation Clinique CHU de Rouen
1 rue de Germont
76031 Rouen cedex
Phone: +33 232 88 8862
secretariat.CIC@chu-rouen.fr
anne-marie.leroi@chu-rouen.fr
https://www.chu-rouen.fr/service/centre-dinvestigation-clinique/
Research Topics
TYPES OF RESEARCH
Biomedical drug research: 56 % (mainly phase II and III clinical trials)
Physiological studies: 22 %
Genetic studies: 5 %
Medical devices: 8 %
Cohort studies: 9 %
FIELDS OF RESEARCH
Cardiovascular, Nutrition, Digestive System Disease: 11 %
Neurosciences, Neurology: 26 %
Genetics, Cancer, Immunology: 21 %
Diagnostic and therapeutic innovation: 42 %
Composition
· 45 researchers, engineers, technicians
· 1 Quality referent, 1 Biostatistician, 1 Lawyer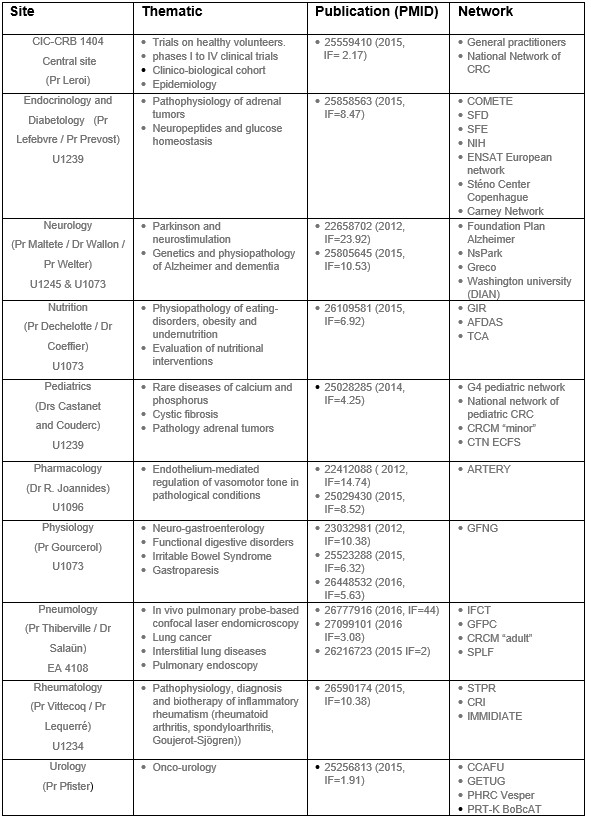 Facilities
Coordinator Site (CIC-CRB 1404):

CIC 1404:

Site Authorization for Healthy Volunteer Trials
File of 1500 healthy volunteers
Methodological support
3 clinical trials dedicated beds with 3 scopes
2 ECG
1 defibrillator
Main access to functionnal imaging and exploration

Biological Resources Centre

Impedancemeter
7 Ultra Low Temperature Freezer (-80°C)
4 Ultra Low Temperature Freezer (-20°C)
Laboratory centrifuges
Main access to Tumour banks (Federation of Pathology CRLCC-CHU)

Endocrinology and Diabetology Site (U 1239):

Ultra Low Temperature Freezer (-80°C).
Ultra Low Temperature Freezer (-20°C)
Laboratory centrifuges

Neurology Site (U 1245 & U 1073):

Main access to diseases biomarkers
Functionnal imaging and exploration (MRI 3T).
PET imaging
CSF biomarkers
Neurosurgical team with expertise in deep brain neurostimulation
Site Authorization for Healthy Volunteer Trials
2 polysomnography and 2 multiparameter recorders

Nutrition Site (U 1073):

Body composition through DEXA or bio-impedancemeter
Bone Densitometry
Calorimeter
Mass spectrometric analysis and in vivo isotopic studies

Pediatrics Site (U 1239):

Ultra Low Temperature Freezer (-20°C)
Laboratory centrifuges

Pharmacology Site (U 1096):

Clinical vascular imaging (echo-tracking, tonometry)
Site Authorization for Healthy Volunteer Trials

Physiology Site (U 1073):

Digestive function investigation platform (manometry, barostat, electrophysiological studies, breath tests, gastric emptying, impedancemetry, sphincter planimetry..)
Digestive Neurostimulation
Magnetic transcranial stimulation
Site Authorization for Healthy Volunteer Trials

Pneumology Site (EA 4108):

In vivo confocal endomicroscopy (Cellvizio®)

Rheumatology Site (U 1234):

Ultrasonography
Bone mineral densitometry
Ultra Low Temperature Freezer (-80°C).
6 Ultra Low Temperature Freezer (-20°C)
Laboratory centrifuges.
Access to radiology department

Urology Site:

Surgical robot
Koelis system (prostate targeted biopsies)
Hexvix Fluorescence (bladder cancer)
Chemotherapy Unit with access to immunotherapy and antiangiogenic therapies
Activity

The Clinical Investigation Centre (Inserm-CIC 1404) and Biological Resources Centre is an ambulatory care and hospitalization Centre dedicated to clinical trials. It includes a coordinating site and 9 clinical sites (see table). The CIC-CRB 1404 was labeled in 2002, recently renewed in 2016. Research taking place in the Centre covers all medical and surgical specialties.
All types of studies are concerned: phases I to IV clinical trials, evaluation of medical devices,
epidemiological, physiological and diagnostic studies. Technical resources also benefit from other several associated units facilities present within the Departments of epidemiology, Physiology, Pneumology, Endocrinology, Neurology, Nutrition, Pharmacology, Rheumatology, Urology and Pediatrics of the University hospital. The mission of the CIC-CRB 1404 is to provide facilities and resources (staff, methodology, equipment….) to researchers performing clinical studies. The CIC-CRB 1404 especially promotes translational research based on close interactions between scientists and physicians of the medical campus. Our objective is to produce new scientific and medical knowledge while ensuring compliance with ethical and legal requirements.
The CIC-CRB 1404 also participates in the training and teaching of clinical research: Master "Methods in Clinical Pharmacology and Training in Therapeutic Trials" and D.I.U. Investigator in Biomedical Research.


Main Contributions

From 2010 to 2015, 255 research protocols:
Institutional (65%);
private pharmaceutical companies (35%).
Main Publications
2018
Does training respiratory physicians in clinical respiratory physiology and interpretation of pulmonary function tests improve core knowledge.

Thorax

2018

,

73

:

78-81

.
28258249
.

Safety and efficacy of temsirolimus as second line treatment for patients with recurrent bladder cancer.

BMC Cancer

2018

,

18

:

194

.
29454321
.

Alteration in the availability of epoxyeicosatrienoic acids contributes with NO to the development of endothelial dysfunction in conduit arteries during aging.

Atherosclerosis

2018

,

275

:

239-245

.
29980050
.
2017