Facilities
Behavioral Analysis Facility


SCAC


Head

Dr Jean Claude do Rego - Dr Jean Luc do Rego


Contact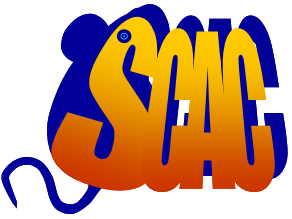 SCAC-IRIB
Faculty of Health
22 boulevard Gambetta
76183 Rouen Cedex
France
Phone: +33 235 14 82 15 / +33 235 14 86 02
plateforme.scac@univ-rouen.fr


https://scac-irib.univ-rouen.fr
Research Topics

The Behavioral Analysis Platform (Service Commun d'AnalyseComportementale, SCAC), a scientific and technological infrastructure for biomedical research, is an IBiSA (Infrastructures en Biologie Santé et Agronomie) behavioral and functional exploration platform. SCAC platform allows to study feeding and metabolism disorders, nutrition, mood disorders (depression, anxiety, schizophrenia, autistic spectrum), learning and memory, development disorders (neonatal development and maternal behavior), pain, motor behavior (spontaneous activity, motor coordination, sensorimotor gaiting), wake fulness and sleep disorders, addiction (appetitive oraversive properties), neurotoxicity, stroke, etc. It is localized in the research building of the Faculty of Health of the University of Rouen-Normandy. SCAC platform brings together various classical and high-performance automated equipments, both classical and newly developed, to the forefront of current technology. The studies in SCAC platform are performed according to French and European Communities Council Directives (86/609/EEC + 2010/63/UE). SCAC platform is open to regional, national and international scientific community or customers, where public and private customers can access in 3 modes including autonomous utilization, scientific collaboration and request of service. The mode of access to the platform depends on the customer's request, the degree of expertise of the customer and the restricted access to certain equipment of the platform. Depending on the affiliation/origin of the customer (University of Rouen Normandy, public organization or private company) 3 different rates are applied (see https://scac-irib.univ-rouen.fr).


Composition

Involvement of 5 professor, engineers, technicians corresponding to 3.8 full-time:
1 full-time from CNRS
1 full-time from Inserm
1.8 full-time from University of Rouen Normandy


Facilities

New equipment from the last three years - Noninvasive automated sytem measurement sleep, wake and breathing - High-performance digital imaging system for gait analysis in mouse, rat, guinea pigs and their neonates - Running wheel with automated workload control, coupled to drinking-feeding monitor - Metabolic and diuresis cages coupled to drinking-feeding monitor - Modular phenotypic cages - Modular actimeter with black and white compartments, hole board, baited holeboard, conditioned place preference options - Dynamic Weight Bearing test - Forced swim test with water wheel - Agora maze - Plantar test - Combustion calorimeter - Biochemistry analyser - Noninvasive Heart monitoring ECG screening system In-vivo X-Ray Microtomograph (microCT)



Activity

Main activities
The Behavioral Analysis Platform (Service Commun d'Analyse Comportementale, SCAC) offers to the scientific community several services organized in 6 sections which covera large spectrum of applications in the field of neuroscience and experimental pharmacology, from the establishments and subsequent use of animal models, reproducing nutritional, neurodegenerative, emotional, dementia, sleep and motor diseases affecting humans, to the pharmaco-therapeutic aspects of new compounds, characterization of new biological targets and investigation of mechanisms of their action. This facility is specialized in the creation and evaluation of animal models, mainly rodents, to characterize complete behavioral phenotypes and in the reproducibility of our experimental models presenting deficits of neurological, psychiatric, metabolic order or associated to the ageing and stroke and consequently to be able to test new pharmacological drugs with therapeutic aim. It offers state-of-the-art technologies and professional resources to facilitate researcher's projects. The offers relative to each section concern the following application fields:
Section-1: Motor and sensory perception disorders: to study locomotor activity or locomotor reactivity, motor performance, muscular muscle strength, motor strength and sensory-motor coordination in the pathologies of the central and/or peripheral nervous system (e.g. neurodegenerative diseases, injuries, traumas, etc), muscular, osteo-articular, pain syndromes, behavioral pharmacology like drug-addiction related on alcohol or drugs, as well as analgesic properties of pharmacological drugs and assess pain sensitivity as part of neurological and neuropsychiatric disorders. etc.
Section-2: Emotional disorders: to evaluate anxiolytic or anxiogenic properties, antidepressant or depressant properties of compounds or neurological manipulations; to study disturbances in the social behavior and the social recognition in depression, anxiety, bipolar disorders, autistic spectrum disorders, schizophrenia, etc.
Section-3: Metabolic and Nutritional disorders: to study eating disorders (anorexia, bulimia) and to detect the phenotype in energy metabolism, glucose homeostasis and intestinal function through preclinical non-invasive measures of food and water intake, as well as food choice, O2 consumption, CO2 production, respiratory quotient, whole energy expenditure together with spontaneous activity, fine movement, exercise capacity and endurance.
Section-4: Cognitif disorders: to study several aspects of cognition like learning, memory and attention abilities, spatial memory, working memory, reference memory and short or long-term memory.
Section-5: Neurobiology of rhythms: to evaluate circadian rythms, sleep disorders, sleep quality, wake and breathing in various pathologies.
Section-6: Several drug-addiction aspects: to detect the induction of aversive or appetitive emotional states by pharmacological compounds, the addictive potential of various compounds and to characterize vulnerability factors to addiction.
Complementary activities
European Quality in Preclinical Data (EQPD) Stakeholder to Increase the robustness and validity of behavioral and physiological testing in animal studies

Training and education

Scientific information release and science promotion to public

Development of new technological approaches in behavioral fields Industrial partnerships
Main Contributions
Development of new approaches to evaluate simultaneously the relationship between multiple behavioral phenotypes in rodents.
Development, by directed reproduction, of animal model of anxiety and/or depression or autism based on the social interaction concept.
Development, based on directed reproduction, of animal model presenting or not a behavioral feature subject of anxious symptomatology, without interference with helplessness.
Developmentofanimalmodelof activity-basedanorexia (ABA).
Development of new approaches of non invasive evaluation of metabolism, bycalorimetry (energy expenditure, assimilated energy, respiratory quotient, ect...).
Pharmacological studies (functional and behavioral) of new neuropeptides as 26RFamide, Endomorphin-1 & -2, Octadecaneuropeptide (ODN, Diazepam Binding Inhibitor33-50), Nociceptin, PACAP.
Pharmaco-therapeutic aspects studies of new molecules potently antidepressants and/or anxiolytics, aiming to characterize new biological targets and to develop new therapeutic strategies of mood disorders (anxiety and depression).
Physiopathology of mood disorders (better knowledge of the mechanisms involved in these pathologies, by behavioral and pharmacological validation of new animal models of anxiety and/or depression).
Physiopathology of feeding disorders (better knowledge of the mechanisms involved in these pathologies, by behavioral and pharmacological studies).
Role of autoantibodies against appetite-regulating neuropeptides in eating and neuropsychiatric disorders.
Main Publications
2021
Cell-penetrating, antioxidant SELENOT mimetic protects dopaminergic neurons and ameliorates motor dysfunction in Parkinson's disease animal models.

Redox Biol

2021

,

40

:

101839

.
33486153
.

Mineralocorticoid receptor blockade with finerenone improves heart function and exercise capacity in ovariectomized mice.

ESC Heart Fail

2021

,

8(3)

:

1933-1943

.
33742556
.

Gut microbiota depletion affects nutritional and behavioral responses to activity-based anorexia model in a sex-dependent manner.

Clin Nutr

2021

,

40(5)

:

2734-2744

.
33933739
.
2020
Coronaridine congeners potentiate GABA A receptors and induce sedative activity in mice in a benzodiazepine-insensitive manner.

Prog Neuropsychopharmacol Biol Psychiatry

2020

,

101

:

109930

.
32194202
.

Glucose homeostasis is impaired in mice deficient in the neuropeptide 26RFa (QRFP).

BMJ Open Diabetes Res Care

2020

,

8(1)

:

e000942

.
32114486
.

Influence of Glutamine and Branched-Chain Amino Acids Supplementation during Refeeding in Activity-Based Anorectic Mice.

Nutrients

2020

,

12(11)

:

3510

.
33202638
.
2019
PT-31, a putative α2-adrenoceptor agonist, is effective in schizophrenia cognitive symptoms in mice.

Behav Pharmacol

2019

,

30(7)

:

574-587

.
31206371
.

Chronic colitis-induced visceral pain is associated with increased anxiety during quiescent phase.

Am J Physiol Gastrointest Liver Physiol

2019

,

316(6)

:

G692-G700

.
30735453
.
2018
Neuroprotective effects of the gliopeptide ODN in an in vivo model of Parkinson's disease.

Cell Mol Life Sci

2018

,

75

:

2075-2091

.
29264673
.

Autoantibodies reactive to adrenocorticotropic hormone can alter cortisol secretion in both aggressive and nonaggressive humans.

Proc Natl Acad Sci U S A

2018

,

115

:

E6576-E6584

.
29941562
.